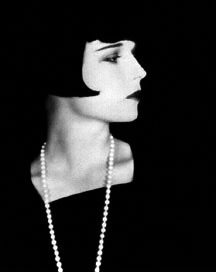 TEXTO ORIGINALNew York Times, August 10, 1985Louise Brooks, proud star of silent screen, dead at 78
Louise Brooks, the silent movie actress from small - town Kansas whose helmet of bobbed brunet hair became her trademark and a symbol of the disdainful flapper of the 1920's, died of a heart attack Thursday at her home in Rochester. She was 78 years old and for nearly 30 years had lived in retirement in a small one - bedroom apartment, sick, poor, proud and alone.
Discovered in a Broadway chorus line as a teen - ager in George White's Scandals in 1924, she went from modeling semi - nude for a theatrical photographer to posing for a classic head shot by Edward Steichen.
She moved on to the movies, making 24 films in a career that began in 1925 and ended in 1938, at the age of 32. Broke but independent, she worked as a $ 40 - a - week salesclerk at Saks Fifth Avenue for two years after World War II.
Miss Brooks' films included two early masterpieces made by G. W. Pabst, the German director, in 1929 Pandora's box, in which she played the amoral temptress Lulu, and Diary of a lost girl, when she was casting the role of a middle class girl of 16 who is seduced.